Shristi Pukhrem
Dr. Shristi Pukhrem is a Senior Research Fellow at India Foundation, a New Delhi based think tank. She has been awarded doctorate from the Centre of South Asian Studies, School of International Studies, Jawaharlal Nehru University, New Delhi. Her PhD thesis titled as "India's Connectivity with South-East Asia: The Economic and Security Implications of the Asian Highway". Earlier she has worked as a Researcher at the Institute for Defence Studies and Analysis (IDSA), New Delhi. She is also a Junior Research Fellowship (JRF) holder in Political Science, awarded by the University Grants Commission, India. Her areas of research and interest cover India-ASEAN relations, India and Southeast Asia relations, Act-East Policy.She has served as a Visiting Scholar at the ASEAN Studies Centre, Chulalongkorn University, Bangkok in April 2016. She was also selected as one of the Canberra Fellows, March 2019 during which she participated in the Trilateral Canberra Fellowship held in Australia.
Sudarshan Ramabadran
Sudarshan Ramabadran is currently the Deputy Director of India Foundation. He has graduated in Commerce from Chennai ( India) and later studied journalism from the Asian College of Journalism in India. He has previously worked with the New Indian Express ( a leading news daily) in Chennai & the Department of Information & Broadcasting, Government of Gujarat, Gandhi Nagar. He has also served as a co-ordinator for All India Chinmaya Yuva Kendra, Global Youth Wing of Chinmaya Mission ( Renowned Spiritual Organisation). His interests are Security, Strategy & International Relations.

Deeksha Goel
Deeksha Goel is currently working as a Senior Research Fellow at India Foundation. Her research interests include studying the Geopolitics of Indian Ocean Region. Deeksha graduated as an Engineer specialising in Electronics and Communication in 2014.
Apurv Mishra
Apurv Mishra is currently the Editor-in- Chief at India Law Journal and Senior Research Fellow at India Foundation. He is also Visiting Faculty at Ashoka University and teaches courses on law at several institutions including Maharashtra National Law University, Mumbai; and NLIU Bhopal.
Soumya Chatuvedi
Soumya Chaturvedi is a Senior Research Fellow at India Foundation. A lawyer by education, she holds a postgraduate degree from Jindal School of International Relations and a specialization in Asia Pacific Security from University of Birmingham, UK. Her research interests include internal security, terrorism, peace and conflict studies. She has written articles for academic journals, newspapers and blogs.
B Shruti Rao
B Shruti Rao is a Research Fellow at India Foundation. She has a post-graduate diploma in Liberal Arts from Ashoka University and has an undergraduate degree from Banaras Hindu University. She has previous work experience with Price Waterhouse, Bangalore, India.
Read Articles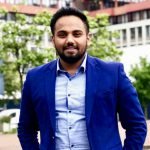 Rohit Kumar
Rohit Kumar is Junior Research Fellow at India Foundation. He basically deals with Border related issues like Border Management and Migration Crisis, mainly the Rohingya Influx in the Indian mainland. He presented a paper during the Mortality Session at the International Conference on Border Deaths and Migration Crisis held in Amsterdam, The Netherlands.
Rishi Bagree
Rishi Bagree is an investment banker with experience in working with organisations like JM Morgan Stanley, and GDB Industries.
Hamsa Devineni
Hamsa Devineni

Guru Prakash
Guru Prakash
Raghav Pandey
Raghav Pandey is currently working as an assistant professor of Law at Maharashtra National Law University, Mumbai and also a Senior Research Fellow at the Department of Humanities and Social Sciences, IIT Bombay. He is an alumnus of National Law University, Lucknow, Tata Institute of Social Sciences Mumbai and Indian Law Institute, New Delhi. Along with having publications on current affairs, history, Constitutional Law and Jurisprudence, and Criminal Law, he is also a contributor at Firstpost, Moneycontrol, ThePrint&The Hindu.