18-19 August 2023
Guwahati, Assam
India Foundation organised the 12th Young Thinkers Meet on 18-19 August, 2023 in Guwahati, Assam. Young Thinkers Meet (YTM) is one such initiative of the India Foundation that began its journey in 2012 at Coorg, Karnataka. The annually held event acts as a confluence of young nationalistic minds hailing from varied walks of life across India.
To give some context, YTM is an annual get-together organised by India Foundation, a New Delhi based think tank, for individuals (mostly under 35 years) who are driven by the idea of a New India. YTM today has an alumni base of over three hundred individuals who belong to different parts of India and come with unique life experiences and skill sets. There are social activists, political activists, NGO workers, academics, journalists, scientists, corporate professionals and students from reputed international universities. Participants in the YTM come from all parts of the country and indulge themselves in deliberations and debates on issues of contemporary national importance. The format of the meet is immersive and experiential rather than a lecture-based classroom format. The number of delegates at any YTM has varied from seventy-five to eighty-five and involves freewheeling discussion over two to three days. Each year YTM moves to a new location and helps the young delegates explore the incredible diversity of the country. The meet has previously happened in Coorg, Karnataka; Manesar, Haryana; Pune, Maharashtra; Pachmarhi, Madhya Pradesh; Patnitop, Jammu & Kashmir; Vadodara, Gujarat; Kasauli, Himachal Pradesh; Chilika, Odisha; Pahalgam and Srinagar, Jammu & Kashmir and Annavaram, Andhra Pradesh. Due to the national lockdown, YTM happened virtually in 2020.
The 12th YTM in Guwahati, Assam, aimed to bring together motivated youth leaders, emerging scholars, and potential pioneers from various sections of the Indian society to engage in challenges to our contemporary discourse and deliberate on their significance, impact and legitimacy. The engagement over two days gave a glimpse into such debates and helped our young scholars to further think over and articulate their views. The objective of the Young Thinkers' Meet was twofold. One was to understand the global orientation of wokeness in its current weaponized form and how it proliferates Indian discourse, thereby triggering cultural wars, and who are its actors in political ideologies, corporate organizations, or other actors such as in social media. Two, consequently, the aim was to debate, discuss and understand how our youth can individually and collectively respond, and equip themselves to think anchored in Indian thought.
This YTM also included a special feature- "Border Expeditions Programme". A group of 14 delegates selected by India Foundation were sent to the border areas of Arunachal Pradesh from 13-16 August, 2023.
The 12th Young Thinkers Meet 2023 at Guwahati, Assam was attended by 84 delegates from 22 states. Most of the delegates arrived at the venue by the evening of 17 August 2023. Followed by Dinner, an informal Introductory Session took place in which the delegates introduced themselves. The session was conducted by Shri Mukunda CR, Sah-Sarkaryavah, Rashtriya Swayamsevak Sangh, and Dr Ram Madhav, President, India Foundation.
On 18 August 2023, the 12th Young Thinkers Meet started with the Inaugural session on "What is Woke Narrative?" featuring a distinguished panel including Shri Biswajit Daimary, Speaker-Assam Legislative Assembly; Swamini Vimalananda ji, Acharya, Chinmaya Mission, Coimbatore; Shri B. L. Santhosh, National General Secretary, BJP and it was chaired by Dr Ram Madhav, President, India Foundation. The session aimed to shed light on the contemporary relevance of the "Woke" narratives. The focus was on how wokeism has set the stage for cultural wars and has initiated a struggle for hegemony over the control of narratives, gaining momentum in Western academic institutions and challenging established social constructs.
The session commenced with Dr Ram Madhav speaking about the emergence of wokeism as a critical juncture in the ongoing cultural strife, notably visible within Western academic institutions. With an emphasis on wokeism's disruptive nature, Dr Madhav expounded how this ideology disrupts societal norms, challenging conventional orders.
Shri Biswajit Daimary offered a deep exploration of India's cultural diversity. He celebrated the nation's mosaic of cultures, advocating for their acceptance and integration. Daimary ji's exposition included references to folklore, such as the tales from Mahabharata, exemplifying how these narratives contribute to India's cultural mosaic.
Swamini Vimalananda brought a distinct perspective by dissecting the contrasting realms of wokeism and dharma. She charted the journey of wokeism, originating as a response to marginalized groups, but ultimately morphing into a path for a specific version of justice and empowerment that suits the western narrative. Expressing concern over the dominance of Western narratives, Swamini ji urged India to forge its narrative, fostering proactive engagement instead of reactive defensiveness.
Shri B. L. Santhosh provided an illuminating account of the implications of wokeism on society. He underscored the delicate balance between cultural preservation and necessary evolution. He examined how woke culture's propagation is often driven by market forces, leveraging digital platforms and social media to further its narrative.
The Inaugural session was followed by the first Panel Discussion on "Political Correctness, Cancel Culture and Challenges to Freedom of Expression/Wokeism on Campuses".
The discussants of the session were Shri Ujjwal Deepak, Former OSD to Chattisgarh Chief Minister; Ms Mahamedhaa Nagar, Spokesperson, Uttar Pradesh BJP; Shri Karan Kataria, LLM, London School of Economics & Political Science (LSE); Shri Pratik Suthar, National Convener, Think India and Ms Mangla Tekam, Member, Student Wing, ABVP.
The broad themes covered in this session included the significance of our traditions and how wokeism and the wish for being politically correct has affected our own culture. The channelisation of the process of political correctness has been ingrained in our political history and it has turned toxic for our own society. The effect of postmodernism as the product of the theory of cultural marxism is being used as a tool by the woke intellectuals in universities and social institutions. The session also covered the aspect of growth of cancel culture and the medium through which the concept of wokeism spreads in the mindset of the individuals.
The second Panel Discussion was on "The Role of Media in Shaping Cultural Narratives (Media, Social Media, OTT, Television, Cinemas)".
The panelists of the session were Dr Swadesh Singh, Assistant Professor, Satyawati College, University of Delhi; Shri Sudarshan Ramabadran, Visiting Fellow, India Foundation; Shri Apurv Mishra, Consultant, Prime Minister's Economic Advisory Council; Ms Shruti Pandey, Research Scholar, University of Hyderabad and Shri Nishant Kumar Azad, Senior Correspondent, Organiser.
The session mainly covered several topics of shaping the cultural narratives and their building through our own way of storytelling. The issue of representation of distorted narratives of our culture and traditions by the use of mainstream media platforms and its consequences on young minds of the country was included. It also covered the aspects of how Indian Cinema has been used as a medium to spread wokeism and Hollywood movies being used as a platform to propagate biased stances on woke issues. Another thing that was highlighted was how Indian Cinema could be used as a medium to set the narrative and also how narrative building involves three steps of representation, selective reporting and setting the agenda.
After two panel discussions, a presentation session took place on "Understanding our Northeast India". The session was chaired by Dr Shristi Pukhrem, Senior Research Fellow, India Foundation. The session was judged by Shri Mukunda CR,  Sah-Sarkaryavah, Rashtriya Swayamsevak Sangh; Dr Ram Madhav, President, India Foundation and Ms Rami N. Desai, Distinguished Fellow, India Foundation. All the delegates were divided into eight groups, each group representing the north-eastern states of Sikkim, Arunachal Pradesh, Assam, Meghalaya, Mizoram, Manipur, Nagaland and Tripura respectively. The main aim of this session was to engage participants in a group discussion and to gain some insights about the states.
Followed by group presentations, there was an open house session with Shri Mukunda CR, Sah-Sarkaryavah, Rashtriya Swayamsevak Sangh where young delegates had a fair and frank discussion about the theme of 12th Young Thinkers' Meet.
After Dinner, the delegates involved themselves in a "Mock Parliament" session. All the delegates were divided into two groups, one being the Ruling Government and the other was the Opposition.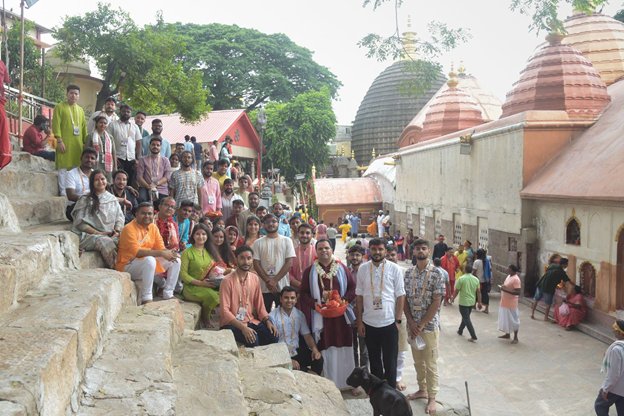 On 19 August, 2023, the day started with a visit to the auspicious Kamakhya Devi Mandir which is an Adi Shakti Peetha.
The third panel discussion was on "Gender Identity and Inclusion: Policy Challenges". The discussants of the session were Ms Rami N. Desai, Distinguished Fellow, India Foundation; Shri Gopi Shankar Madurai, South Representative of the National Council for Transgender Persons with the Ministry of Social Justice and Empowerment, Government of India; Shri Ankit Bhuptani, Founder, Queer Hindu Alliance; Shri Shubhendu Anand, Advocate, Supreme Court of India and Ms Anmol Mahajan, Research Fellow, India Foundation.
The session covered the changing aspects and facets of gender and identity and a brief explanation on gender identity and womanhood. It also included the issue of the constitutionality of identification of sex of a person and also about the living reality of the LGBTQIA community and how the community is dealing with the contemporary socio, political and woke narratives. One other aspect covered was about the LGBTQIA community and their struggles with legislative process and also non-sensitisation of the masses towards them.
After the third panel discussion, there was an interaction session with Shri Gyanendra Pratap Singh, IPS, Director General of Police, Assam. He gave a very insightful presentation on "Assam's Journey to Peace and Prosperity" in which he discussed various aspects including public order and major issues in Assam. The presentation was followed by an interactive Q&A session.
The interaction was followed by Presentations on Border Expedition. A total of 14 people selected by India Foundation were divided into two groups for the "Border Expeditions Programme" from 13-16 August, 2023. One group was sent to Tawang and the other one to Walong in Arunachal Pradesh. Both the teams gave a group presentation, sharing their experiences about visiting the border areas of Arunachal Pradesh to try and understand the topography of their land and have a first hand experience of the socio-cultural livelihood of the locals. The presentations were chaired by Shri Aaditya Tiwari, Visiting Fellow, India Foundation.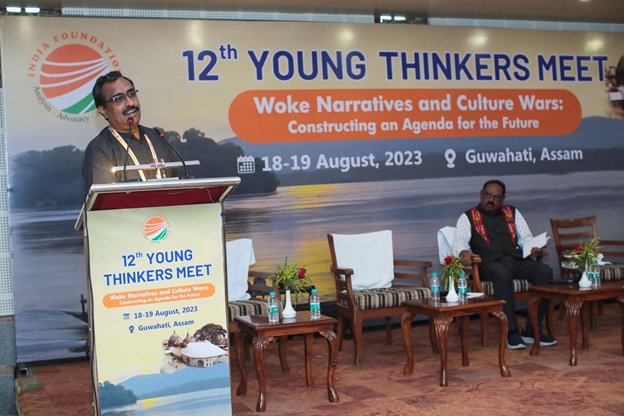 The 12th Young Thinkers Meet ended with the Valedictory Session on "Constructing an Agenda for the Future". The speakers were Dr Ram Madhav, President, India Foundation and Shri PVSLN Murty, Member, Governing Council, India Foundation..
The session ended with a collective aim of constructing our own narratives through building academic discourses and acknowledging the importance of knowledge and love that our culture infuses in our way of life. We should work on solutions and move one step forward from just discussing our issues.