Jyot organised a conclave titled "Vasudhaiva Kutumbakam Ki Oar 2.0" at Manilaxmi Tirth Temple Complex in Gujarat on 18-19 October 2023. The conference's theme, 'Future of the Western World and the Global South,' holds special significance in the current global context. Consequently, India is emerging as a major player towards promoting a free, fair, and just global system to address the global challenges. The Government of India, under the leadership of the Honourable Prime Minister Shri Narendra Modi Ji, has demonstrated a deep commitment to the theme of India's G20 Presidency, 'One Earth, One Family, One Future' emphasizing that it is not just a slogan but a comprehensive philosophy deeply rooted in India's cultural heritage. The panellists deliberated on the trajectory towards the new world order and the necessary adjustments, nuances, tweaks and shifts required to move toward a free, fair, and just order.
Jyot, Vivekananda International Foundation (VIF), India Foundation (IF) and Gitarth Ganga, came together in a Conclave to deliberate over the concept of Vasudhaiva Kutumbakam and discuss how it can contribute to the evolution of an inclusive, fair and just new world order.  The new World Order is evolving, transitioning from a Western-dominated post-World War 2 structure to a multipolar world order. The current global structure steered by Western interests has numerous flashpoints, which has created a pervasive sense of insecurity. Given the current atmosphere of conflicts and instability, there's a pressing need for a holistic universal philosophy to guide the emerging New World Order.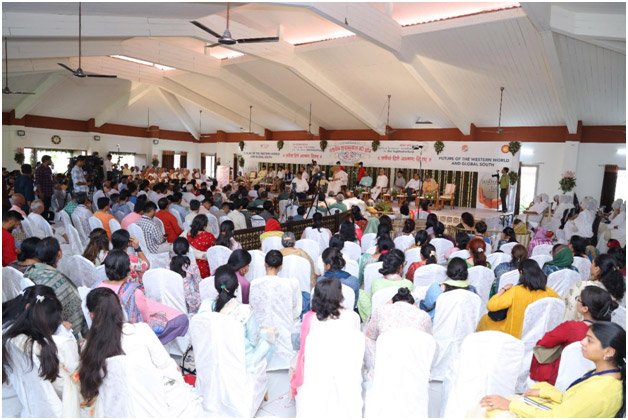 This was echoed in the words of the Honorable PM during the opening remarks of  the G-20 Summit, "The 21st century is a time that has the potential to give a new direction to the entire world. It's a time when years-old challenges demand new solutions from us. Therefore, we must move forward by fulfilling all our responsibilities with a human-centric approach."
Embracing the ancient wisdom of India, the conclave highlighted the Indian joint family system, inspired by the principle of Vasudhaiva Kutumbakam (the world is one family). Under the guidance of Spiritual Sovereign His Holiness Jainacharya Yugbhushansuriswarji, twelve pivotal ethics were proposed, to be considered at the global level for establishing Global Order based on Vasudhaiva Kutumbakam:
Guarantee of Security.
Guarantee of Basic Necessities.
Guarantee of Health and Education of Choice.
Guarantee of Free Growth and Development.
Guarantee of Support and Guidance.
Guarantee of Equal Access to Common Resources.
Guarantee of Material and Spiritual Development of the Individual.
Guarantee of Family String.
Guarantee of Protection to Weak and Vulnerable.
Guarantee of Grievance Redressal, Punishment and Justice System.
Equal but differential duty according to capability.
A Strong, Mature, Neutral and Visionary leadership.