India Foundation instituted the Atal Bihari Vajpayee Memorial Lecture in 2018 to celebrate the legacy of the Former Prime Minister of India Shri Atal Bihari Vajpayee. Shri Vajpayee personified the spirit of nationalism, integrity in public life and approach towards politics.
The First Lecture was delivered by Former Finance Minister of India Shri Arun Jaitley in Delhi on the theme of "Indian Democracy: Maturity and Challenges" at the 4th India Ideas Conclave in 2018; the Second Lecture was delivered by Former President of India Shri Pranab Mukherjee in 2019 on "Has Parliamentary Democracy Succeeded in India and the Challenges Ahead".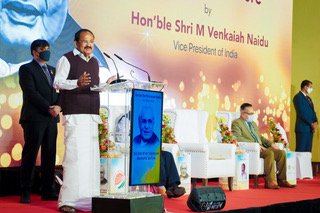 The Third edition of the lecture was delivered by the Hon'ble Vice President of India Shri M Venkaiah Naidu on December 26, 2020 in Hyderabad, Telangana.  The theme of this edition of the lecture was "Building Democratic Consensus: The Vajpayee Way".
Recalling his long association with the Former Prime Minister, Shri Naidu spoke of his vision, and far-sightedness in matters of national development. "Empowering the individual is empowering the nation" is what Atal Ji used to say when asked about his vision for India, said the Vice President.
He went on to further elaborate on Atal Ji's zeal to bring about rapid economic and social change despite heading a coalition government comprising of 23 political parties. A man, way ahead of his time, Atal Ji's insistence on infrastructure building, ensuring connectivity and urban modernisation reaped dividends for the nation.
Talking about Former Prime Minister Vajpayee's multi-faceted personality, the Hon'ble Vice President of India spoke of his oratorial skills and his ability to inspire generations with an instant personal connect. He spoke of the high moral ground that PM Vajpayee kept through his life and the adherence to ethics in politics.
The lecture was attended by over 200 eminent citizens of Andhra Pradesh and Telangana which included Union Ministers, Member of Parliaments, Members of Legislative Assembly and Councils, former diplomats, industrialists, social workers and academics amongst many others.