Connecting India's North-East with North-West Region of Myanmar:
Roadmap for all-round Prosperity
India and Myanmar have a long history of friendly relations, tied by strong bonds of shared history and commonalities in culture and spirituality. For India, its relationship with Myanmar is integral to its Act East policy, in pursuit of a more stable, secure and prosperous region. India's Northeast Region and Myanmar's North-West region form a 'land-bridge' between South Asia and South East Asia.
In this context, to analyse the infrastructure deficit along the border region on both sides and enhance the connectivity, India Foundation, in collaboration with Ministry of External Affairs, Government of India and Government of Manipur, organised a Conference on the theme
"Connecting India's North-East with North-West Region of Myanmar: Roadmap for all-round Prosperity" on 09-12 June 2019 in Imphal, Manipur. The participants in the conference included opinion makers from Myanmar and India including parliamentarians, politicians, academics, businessmen, government officials etc.
The High-Level Delegation from Myanmar included five members from the National League for Democracy (NLD) which is the ruling party in Myanmar. The Delegation was headed by His Excellency Dr. Aung Moe Nyo, Chief Minister of Magway Region Government, Magway, Myanmar. The other members of the NLD Party were U Htet Aung Myint (Sagaing Region Youth Industrial Group, Kanbalu), U Myo Naing, Member of Parliament, House of Representatives (Pyithu Hluttaw), U Myint Naing Oo (Member of Parliament, Sagaing Region Hluttaw) and U Ral Hnin (Member of Chin State Parliament, Chairman, Chin State NLD, Chairman, State Audit Committee).
The main opposition party and former ruling party of Myanmar, Union Solidarity and Development Party (USDP), also participated in the conference. The Delegation of USDP was led by Dr Myint Thein, Chief Executive Committee, Member of the USDP Party. The other members of the USDP Party were Cin Khan Pau, Representative, House of Nationalities (Amyotha Hluttaw), Daw Lum Lam (Representative, Kachin State Hluttaw), Khin Maung Shwe (Township Committee Member, Tamu), and Tun Lwin (Head of Dept, USDP Hq). His Excellency Mr. Moe Kyaw Aung, Ambassador of Myanmar to India also participated in the conference along with Mr Kaung Phyo Wint, Second Secretary (Political), Embassy of the Union of Myanmar.
The business delegation from Myanmar included Mr Hla Maung (Chairman, Myanmar- India Border Trade Chamber of Commerce), Mr Min Khant Ko (Operation Manager, Shwe Mandalar Express Co. Ltd.), KBZ Group, Mr. Soe Myint (Editor-in-Chief, Mizzima Media) etc. The Myanmar Delegation crossed over the border in the afternoon of 09 June 2019 at India-Myanmar Friendship Bridge at Moreh in Manipur.
On Indian side of the Delegation, the participants included Capt Alok Bansal (Director, India Foundation), Lt Gen Shokin Chauhan (Chairman, Cease Fire Monitoring Group (CFMG), Nagaland), Shri Nandan Singh Bhaisora (Consul General, Consulate General of India, Mandalay, Myanmar), Ambassador Preeti Saran (Former Secretary (East), MEA, Govt of India), Shri Rambabu (General Manager, Networking, Air India), Shri Radheshyam Oinam (President, Manipur Chamber of Commerce & Industry), representatives of CII, representatives of MCCI, representatives from Assam Rifles, academicians from Manipur University, senior officials from Government of Manipur, experts from Think Tanks etc.
The Delegation was welcomed in a traditional way by the cultural troupes and Shri Thongam Biswajit Singh, Minister of Commerce & Industry, Public Works, Power, RD & PR, Information & Public Relations, Administrative Reforms, Textiles, Government of Manipur, received the High-Level Delegation of Myanmar on Indian side of the India-Myanmar Friendship Bridge at Moreh. Shri Ram Madhav, National General Secretary, BJP and Member, Board of Governors, India Foundation, also welcomed the Myanmar Delegation at Moreh and hosted Lunch for all the delegates at Hotel Elora in Moreh.
On 10 June 2019, the Myanmar Delegation visited Commonwealth War Cemetery, Kangla Fort, Regional Institute of Medical Sciences, Sky Hospital, Manipur University, and local markets in Imphal. They were impressed at the excellent medical and educational facilities available at Imphal and showed great interest in them. Dr Najma Heptulla, Hon'ble Governor of Manipur hosted dinner for the visiting Myanmar Delegation at Raj Bhavan and the Governor interacted with all Delegates over dinner on 10 June 2019. Hon'ble Governor discussed various aspects of the bilateral relations of India-Myanmar with the visiting delegation especially focusing on connectivity, commerce, culture, tourism, people to people contacts, trilateral highway, medical tourism in Manipur etc.
On 11 June 2019, the Myanmar Delegation participated in the Conference on India-Myanmar Relations on the theme of "Connecting India's North-East with North-West Region of Myanmar: Roadmap for all-round Prosperity" at Hotel Classic Grande, Imphal, Manipur. Shri N. Biren Singh, Hon'ble Chief Minister of Manipur, in his inaugural address thanked India Foundation for this crucial initiative towards "Act East Policy". He assured that the discussions in the conference will certainly facilitate in shaping a way forward towards a shared all-round prosperity of the North-East region of India and the North-West region of Myanmar. He said that India's Act East Policy is a reflection of our commitment to deepen ties with the ASEAN region, and more importantly with our immediate neighbour Myanmar and there are compelling reasons for the North East of India to establish itself as a land hub of India's Act East Policy. He also projected Manipur as a Land Gateway of India to South-East Asia. In his address, he talked about the work for widening and improving the Imphal to Moreh Road and told that it is progressing at a steady pace.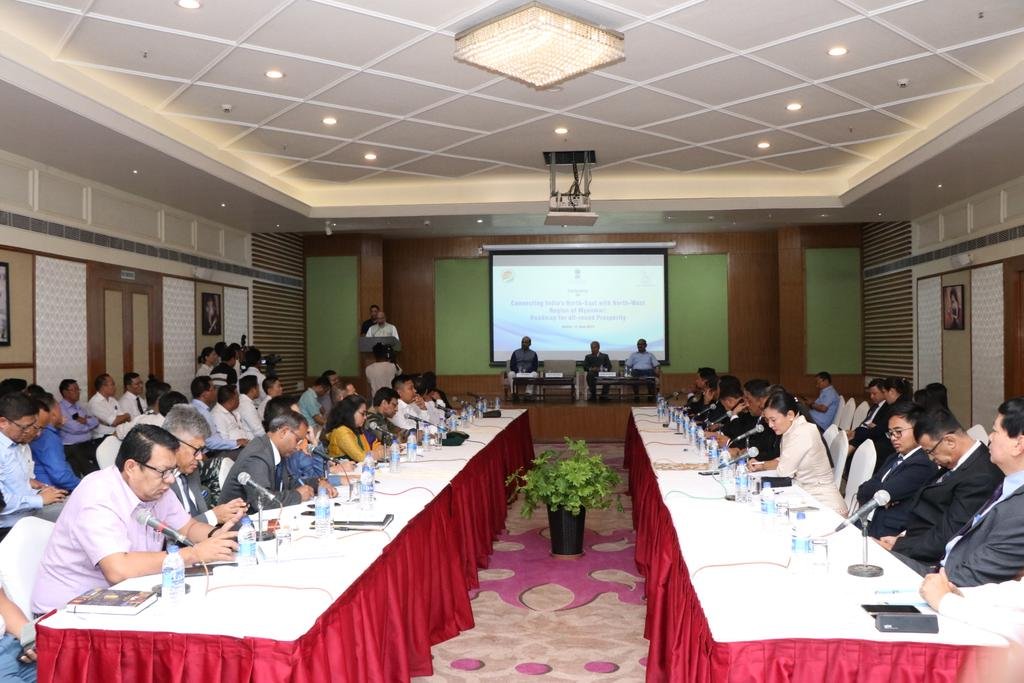 Shri N. Biren Singh also spoke on Trans Asian Railway Link and said that it has immense potential to uplift the socio-economic condition of the peoples further and he talked about the formalities for starting the Mandalay-Imphal bus service which are in final stages and outlined that the next stage would involve signing of Transport Protocol between the Government of India and the Government of Myanmar. He requested the High Level delegation to take up this issue on their return because once the bus service starts, Manipur will serve as a land gateway for Buddhist religious centres in Tawang, Rumtek and Bodhgaya.
The Chief Minister of Manipur also highlighted that Manipur has excellent air connectivity with major cities in the country and an Air Cargo Terminal is also being planned in the Imphal International Airport. He said, "We are keen for air links directly between Manipur and Myanmar to promote tourism, trade and to build greater people-to-people contact". In this regard, Shri N Biren Singh proposed to start a flight between Mandalay-Imphal-Gaya in collaboration with Air India.
H.E. Dr Aung Moe Nyo, Chief Minister of Magway Region in Myanmar, in his special address said that India and Myanmar need to explore possibility of cooperation in the education and health sector. He showed keen interest in the medical tourism and pointed out that medical services are much cheaper in India with best qualities as compared to other countries like Thailand and Singapore. He also said that both countries should find some mechanisms to institutionalise the collaboration in education and health sector.
After the inaugural session, there were two technical sessions focussing on "Physical Connectivity: The Infrastructure Deficit" and "Connectivity: The Way Ahead". The final session was on the way forward with recommendations. Infrastructure has been one of the apparent constraints in the growth of North-eastern region of India and in the growth of border trade with Myanmar. It would be ironical to focus on improving border trade without giving due consideration to border infrastructure. Both India and Myanmar recognise the importance of building up required infrastructure as a means of promoting commercial, cultural, touristic and other exchanges and hence improving connectivity has been one of the focal points during the sessions. Requirement of air connectivity with flights operating from Delhi-Imphal (Return) with a stopover at Gaya in alternate days was strongly proposed in the sessions.
Shri N. Biren Singh, Chief Minister of Manipur also hosted a cultural program followed by State Dinner in honour of the visiting High-Level Delegation from Myanmar on 11 June 2019. The Indian and Myanmar delegates of the conference interacted with the Chief Minister of Manipur over dinner and enjoyed the cultural evening highlighting the rich traditional culture of Manipur.